Patco® D9200
FR Aircaft Waterseal Tape and Corrosion Inhibitor
APPLICATIONS
Aircraft wetseal applications in main cabin areas such as galleys, entryways, lavatories and any areas that are susceptible to moisture damage.
Wide widths available for sealing large areas.
Reinforcing and provide moisture barrier for aircraft insulation fastener opening.
FEATURES & BENEFITS
Flame retardant, very tough, elastic
Water resistant.
Transparent.
Meets FAR 25.853(a).
Holds up under heavy use.
Excellent moisture barrier.
Repositionable and permanent.
Extra thickness for stay flat and dimensional stability.
Transparent to allow for visual inspection.
Release liner for wide width usage an die-cuts.
TEST DATA

Test
Typical Value
Typical Value (Metric)
Test Method
Download PDF
Total Thickness
14 mils
0.356 mm
PSTC-33
Adhesion to Steel
80 oz/in.
89.6 g/mm
ASTM – D3330
Tensile Strength
90 lb/in.
1.61 kg/mm
ASTM – D3759
Elongation (%)
500%
Application Temperature Range
50°F to 120°F
10°C to 49°C
Operating Temperature Range
-65°F to 300°F
-54°C to 148°C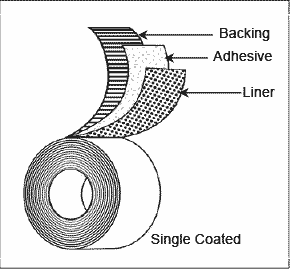 PRODUCT DESCRIPTION:
Single-Coated with Liner
Construction Backing: Interior-Grade Aromatic Polyurethane
Adhesive: Acrylic
Liner: Blue HDPE
Colors: Transparent
** Recommended storage conditions: 40-60% Humidity, 60°F – 80°F
The information presented herein was prepared at BERRY PLASTICS CORPORATION (25 Forge Parkway Franklin, MA 02038) by qualified technical personnel. To Berry's knowledge it is true and accurate. However, the information and recommendations are furnished for these products with the understanding that the purchaser or user, as the case may be, will independently determine that the product is suitable for the intended use, and that such use complies with all applicable federal, state and local laws and regulations. The data are submitted only for the user's information and consideration, and do not constitute a warranty of any kind (including but not limited to a warranty of merchantability or of fitness for a particular purpose), or a representation for which BERRY PLASTICS assumes any legal responsibility