Polyken® 108PE Flame Retardant
Flame Retardant (FR) Double-Coated Cloth Tape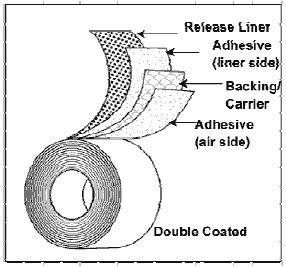 FEATURES AND BENEFITS

Flame retardant double-coated cloth tape with flame retardant synthetic rubber adhesive. For carpet installation on interior floors and stairs of aircraft. Used with confidence by Boeing, Douglas, Lockheed, and major national and international airlines and refurbishers.
Designed with a flame retardant cotton cloth and synthetic adhesive systems that complies with F.A.R. 25.853(a).
High strength, with great quick-stick and adhesion.
Easy to tear and realign for ease of installation.
Highly conformable.
Extremely aggressive adhesive for a secure bond.
Compliance with safety requirements.
Designed for residue-free removal.
 Technical Data
Test Method
Download PDF
Adhesive
Rubber
Backing
FR Cotton Cloth
12 Second Vertical Burn
F.A.R. 25.853 (a)
Drip
No Drip
Length
4.5 sec
ASTM D-1000
Time
1.5 sec
Adhesion to steel
60 oz/in / 67.2 g/mm
PSTC-1
Adhesion to Aluminum (Liner Side)
60 oz/in / 67.2 g/mm
PSTC-1
Tensile Strength
55 lb/in / .986 kg/mm
ASTM D-1000
Thickness
15 mils / 0.381 mm
ASTM D-1000
Weight
13 oz / sq. yd. / 472.9 g/m2
ASTM D-1000
Specifications
Boeing – BMS 5-133E
FAR 25.853 (a)
---
 Note: The above are typical values and should not be used in writing specifications