Polyken® 296FR
Flame Retardant (FR) LIGHTWEIGHT CARGO COMPARTMENT TAPE

APPLICATIONS
Cargo pit applications for freight carrying aircraft
Challenging applications where high adhesion and flame resistance is critical
Seaming and repairing cargo compartment liners
Covering pins & rivests
Metal surface protection during soldering or welding
FEATURES
Fiberglass Cloth
Bromide-Free Acrylic Adhesive
Complies with FAR 25.853(a) & 25.855(d)
BENEFITS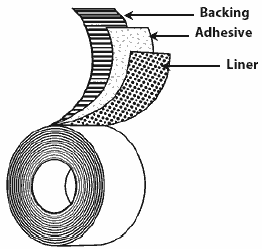 Super high tensile strength
Resists flame penetration for added safety
Lightweight construction – saves money
Conformable to handle curves and corners
Meets EU Drivective 76/769/EEC
Repositionable and clean removal
Resists flagging and lifting
Meets requirement for use in aircraft cargo compartments
CERTIFICATIONS
FAA - FAR 25.853 (a)/FAR 25.855 (d) 
Boeing - BMS 5-146 
Airbus - ABD0031, Paragraph 7.3.2 
Airbus - ABD0031, Paragraph 7.4 
Boeing - 737-SL-25-115-B 
Boeing - 747-SL-25-195-B 
Boeing - 757-SL-5-085-B 
Boeing - 777-SL-25-037-B 
Measurement
US Value
Metric Value
Test Method
Download PDF / Download MSDS
Total Thickness
7.0 mils
177.8 mic
ASTM D-1000
Adhesion to Steel
45 oz/in
4.93 N/cm
PSTC-101
Tensile Strength
134 lb/in
234.67 N/cm
ASTM D-1000
Weight
6.8 ox/yd2
210 g/m2
Operating Temperature
-40° to 275°F
-40° to 135°C
 ASTM D-1000
Exiting Time
0.66 sec
25.853(a)/25.855(d)
Burn Length
3″
F.A.R. 25.853 (a)
Flame Penetration
N/A
F.A.R. 25.855 (d)
Drop Exiting
N/A
F.A.R. 25.853 (a)
After Glow
0 sec.
F.A.R. 25.855 (d)
Recommended Storage Conditions: 40-60% Humidity, 60°F-80°F
Standard Shelf Life (at 25°C): 24 months from date of manufacture.
---
Note: The above are typical values and should not be used in writing specifications
The information presented herein was prepared at BERRY PLASTICS CORPORATION (25 Forge Parkway Franklin, MA 02038) by qualified technical personnel. To Berry Plastics' knowledge it is true and accurate. However, the information and recommendations are furnished for these products with the understanding that the purchaser or user, as the case may be, will independently determine that the product is suitable for the intended use, and that such use complies with all applicable federal, state and local laws and regulations. The data are submitted only for the user's information and consideration, and do not constitute a warranty of any kind (including but not limited to a warranty of merchantability or of fitness for a particular purpose), or a representation for which BERRY PLASTICS assumes any legal responsibility.