Polyken® 347
Premium Foil Tape – Heavy Duty

Aluminum foil for sealing and masking of aircraft. Aircraft sealing and masking applications. Used as a window mask to protect aircraft canopies, windshields and passenger window surfaces from crazing and/or hazing during paint stripping operations. Heavy duty vapor barrier sealing for sheet metal, flexible, and fiberglass duct systems.
APPLICATIONS
Aluminum Foil Backing provides a vapor barrier from moisture, contamination or corrosion.
Acts as a heat shield, minimizing heat transfer.
Superior conformability to adhere to irregular surfaces.
Acrylic Adhesive System developed for solvent resistance and clean removal from surfaces.
High adhesion – adheres tightly without lifting.
Excellent aging resistance with long-term bond performance.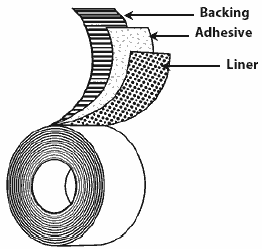 Value
Test Method
Download PDF
Adhesive
Proprietary Acrylic
Backing
Aluminum Foil
Liner
Kraft Paper
Adhesion to backing
22 oz/in / 24.5 g/mm
(PSTC-1)
Adhesion to steel
(PSTC-1) 50 oz/in / 55.8 g/mm
(PSTC-1)
Elongation
8%
Foil Thickness
5.5 mils / .1397 mm
(ASTM D-1000)
Maximum Temperature
200°F / 93°C
(ASTM D-1000)
Tensile
26 lb/in / 0.46 kg/mm
(ASTM D-1000)
Thickness
3 mils / 0.762mm
(ASTM D-1000)
Specifications
FAR 25.853 (a)
---
Note: The above are typical values and should not be used in writing specifications